Basic Character Animation with Illustrator CS4 and Flash CS4 Professional
Chris Georgenes
MudBubble, Keyframer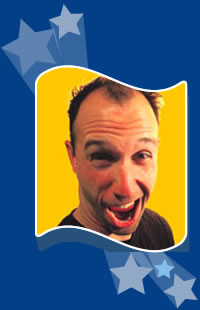 Learn how to create simple, engaging characters in Illustrator CS4, prepare them for animation, and give them expression and motion in Flash CS4 Professional, all without writing code. Explore new drawing tools in Illustrator, such as the Blob Brush tool, and find out how to take advantage of prebuilt animations, the interactive Bones tool, and the Motion Editor in Flash Professional to quickly create and fine-tune animations. While the focus of this session is on character animation, the techniques presented can be applied to any design project.
Chris's animation career started many years after he graduated from the Hartford Art School (U-Ha!) as an Illustrator in 1989. It was this training in the fine arts that gave him a solid foundation as a well-rounded fine artist, long before graphics software became available to him. Chris cut his teeth as an animator for Tom Snyder Productions (Scholastic) for 6 years, eventually working his way up to Director of Creative Development. The biggest feather in his cap during this time was Art Director and Co-Creator of Home Movies (Cartoon Network) and Science Court (ABC).
Chris discovered Flash 3 back in 1999 and a year later was the art and technical director for several animated series for www.shockwave.com. During a Flash Forward speaking engagement in New York that summer, Chris saw the proverbial "flash-light" and realized Flash was the future. He chose wisely.
Chris started his own design and animation company in 2002, using Flash as the primary development tool. His clients include Macromedia, Hasbro, Ogilvy, Yahoo!, Gillette, Digitas, Pileated Pictures and AOL, to name a few.